PERIYAR 140th BIRTHDAY CELEBRATION IN BAY AREA
We welcome all progressive friends, families and children to join and celebrate *PERIYAR 140th BIRTHDAY CELEBRATION IN BAY AREA.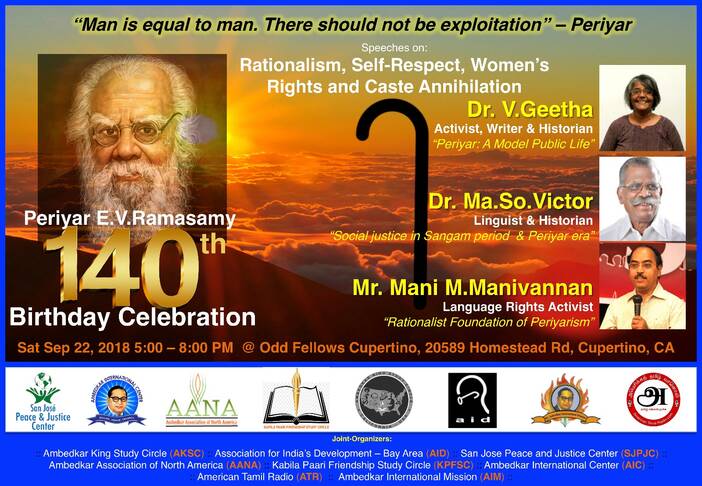 *
Date/Time:
* Coming Saturday Sep 22nd 2018 from 5:00 to 8:00PM
*
Venue:
* Odd Fellows Cupertino Lodge 70, 20589 Homestead Road, Cupertino, CA
Well known speakers from Tamilnadu and Bay Area will take on different topics such as Rationalism, Self-Respect, Women's Rights, Annihilation of Castes,etc which Periyar E.V.Ramasamy fought until his death at the age of 94.
1) *Dr. V.GEETHA - Writer, Historian, Activist*
Topic:
_*Periyar: A Model Public Life*_
she authored many well recognized books in Tamil and English along with her co-author S.V.Rajadurai.
2) *Dr. Ma. So. VICTOR - Linguist & Historian*
Topic:
_*Social Justice in Tamil Sangam Period and in Periyar Era*_
He wrote more than 100 books related to South India History, Religion, Culture and Language.
3) *Mr. MANI M. MANIVANNAN - Language Rights Activist*
Topic: _*Rationalist Foundation of Periyarism*_
He is one of a founding member of INFITT (International Forum for Information Technology in Tamil) and a former President of the Bay Area Tamil Manram (BATM), multi-faceted personality.
*Ambedkar King Study Circle (AKSC)*
*Association for India's Development - Bay Area (AID)*
*San Jose Peace and Justice Center (SJPJC)*
*Ambedkar Association of North America (AANA)*
*Kabila Paari Friendship Study Circle (KPFSC)*
*Ambedkar International Center (AIC)*
*American Tamil Radio (ATR)*
*Ambedkar International Mission (AIM)*
You'r reading PERIYAR 140th BIRTHDAY CELEBRATION IN BAY AREA Originally posted on The Subeditor Tamil